DiSC Research, Reliability and Validity
Wiley is the leading publisher of DiSC research, assessments, profiles and companion training programs. Over 30 years ago, they pioneered the creation of the first commercially available version of DiSC—from the textbook into the workplace. Today, Wiley's Everything DiSC products are used worldwide in thousands of organizations. Wiley is truly "The Source of Everything DiSC."
Wiley's DiSC research and validation studies have made DiSC psychometric assessments reliable: you can confidently use them in any setting and context. Research reports are publicly available (see below) for reference.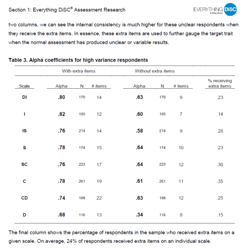 Frequently Asked Questions
Are all the competitors disc profiles the same?
what is the difference between mbti and disc?
TEST AND ASSESSMENT, WHAT IS THE DIFFERENCE?
Should disc be used as a selection​​​​ tool
IS DISC available in other languages?
ARE EVERYTHING DISC PRODUCTS AVAILABLE IN OTHER LANGUAGES?
IS DISC CLASSIC AVAILABLE IN OTHER LANGUAGES ?
IS FIVE BEHAVIORS OF A COHESIVE TEAM AVAILABLE IN OTHER LANGUAGES?
what is the best disc product for a hiring process?
HOW CAN I MAKE MY CHOICE?
WHAT IS THE BEST PRODUCT FOR TEAMS?​​​​
CAN YOU CERTIFY ME TO BE A DISC TRAINER?
WHAT IS THE BEST PROFILE TO DEVELOP LEADERSHIP?
WHAT ARE THE NEXT STEPS AFTER THE ASSESSMENT IN USING DISC TOOLS?
CAN MY PROFILE CHANGE OVER TIME?
IS IT BETTER TO HAVE A PREFERENCE FOR DISC STYLE D, I, S OR C?
DO I NEED TO BE CERTIFIED TO ADMINISTER THE DISC PROFILES?
WHAT IS THE ADDED VALUE OF A WORKSHOP WHEN WE ALREADY HAVE THE PROFILE?
CAN I CONNECT WITH ANYONE ON THIS PLATFORM?
HOW LONG AND HOW MANY TIMES CAN I ACCESS THE PLATFORM?