With Everything DiSC Productive Conflict, conflict can be constructive and productive
Uses: Conflict management, effective employee communication, team building, productivity, self-awareness
By increasing self-awareness around conflict behaviors, Everything DiSC Productive Conflict helps learners effectively respond to the uncomfortable and unavoidable challenges of workplace conflict. You transform uncomfortable encounters into stronger relationships.
Purpose
Gain insights into your own response to conflict and that of others.
Explore the destructive and productive conflict behaviors typical of each DiSC style.
Understand how to manage your response to conflict situations.
Discover communication strategies for engaging in product conflict in the workplace.
Everything DiSC Productive Conflict in depth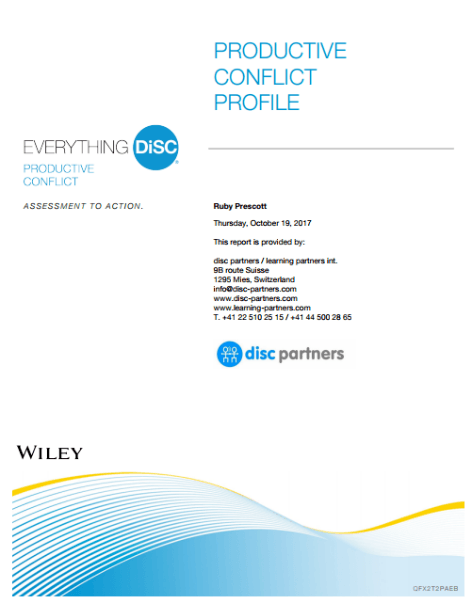 Your DiSC Style in Conflict:
The Profile contains highly personalized information that is specific to a participant's responses to the assessment and to their corresponding DiSC style.
Why do I do This?:
Learners discover the reasons behind destructive responses to conflict. This valuable information can also relate to conflict in non-work settings.
Changing Your Response:
With strategies to curb destructive responses, learners discover how to step back and reframe productive responses to conflict situations. three things they can focus on now.
 Easy to customise
Online tailoring options make it easy to remove or rearrange pages, customize
the Profile title, or print select sections.You can remove or rearrange pages, customise the profile title, or print selected sections.
View Samples
See or print your own Sample Everything DiSC Productive Conflict Profile